Hardwood Floor Refinishing
Wood floors last a long time, and like any fine furnishing, they will last in better condition if you take care of them properly. In particular, we're talking about hardwood floor refinishing.
Polyurethane finishes are incredibly durable, but they will start to show their age and get worn away, and it all depends on the use and traffic that your floor sustains. Grit and small rocks, basically any kind of particle that might get walked in, can wear away at this protective layer, which is why sweeping hardwood daily is so important.
Time to Refinish
Even with the very best care, every hardwood floor will eventually need to be refinished. An additional benefit is that refinishing will restore the glossy shine that has been lost over time.
Tulip Carpet Cleaning League City has taken care of floors in residential and commercial properties in the League City, TX area. We offer two different kinds of refinishing, depending on your floor's needs.
Screen and Recoat
A mesh screen is used with a rotating machine to gently sand off the very top layer of the polyurethane. This allows us to remove any surface impurities and scratches and prepare a perfect, even surface for the new finish. We then recoat the floor, smoothing on a brand new layer of polyurethane that will let the beauty of your floor shine through again.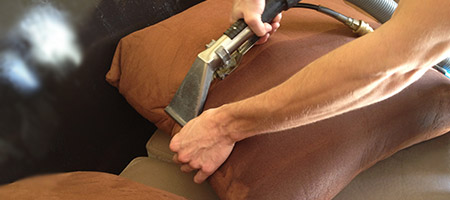 Sanding and Refinishing
If the original finish were completely worn away in any place or the wood itself is damaged, our expert refinishers will employ their skill to sand away the entire finish down to bare boards. At that time, any repairs can be made, and the floor can even be stained to a different color before refinishing. This is a longer, more complex process, but in the hands of our experts it restores badly treated floors beautifully.
Tulip Carpet Cleaning League City is here to take care of your hardwood the way it deserves to be treated. With experienced technicians and the best equipment, we will have your hardwood refinished efficiently and with as little disruption as possible.