Carpet Cleaning Professionals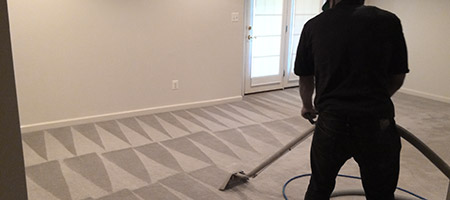 Steam carpet cleaning (or hot water extraction in more professional terms) is the main cleaning method for carpets for the past several decades. The basics of the technique is to rinse the carpet with extra hot water, which break the soil and dirt build up, and then extract it using powerful vacuuming. In modern days, this requires only one commercial grade machine to get done correctly. However, the machine is not all that's needed to get the carpet cleaned right. You'd need a skilled technician, who would be able to identify the carpets' fiber type and customize the cleaning to the carpets' materials and condition.
In addition, it is important to use the right detergents and solutions, so they will actually clean the carpet and not damage it or just leave it soiled and dirty. A correct cleaning process would require several steps, including grooming the carpet, vacuuming it prior to hot water extraction, doing a pre-spot treatment on potentially stubborn stains, and then post cleaning spot treatment for the stains that still haven't disappeared completely. In addition, a good cleaner would need to make sure the pH levels of the carpets are neutralized (using the right solutions), the carpet is groomed right for the drying time (2-6 hours, mind you) and of course make sure you, the customer, are satisfied with the service you received. After all, that's our biggest goal - making you happy, and providing the best value for your money and time.
Still thinking about it? Why not pick up the phone, schedule a FREE onsite estimate, and meet our team at your home or business to get a full price estimate? The estimate will be tailored to you and your cleaning needs. Give us a call: 713-893-4348. Your smile is guaranteed.
Rejuvenate Your Upholstery with Tulip Carpet Cleaning League City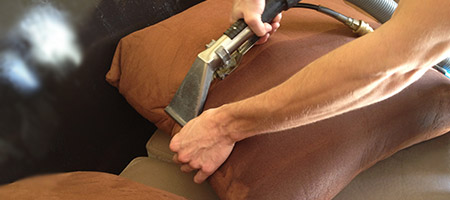 Upholstery, even when not used, gets dirty. It accumulates dust, dirt, spills and oils even when just standing there unused. In most cases, you won't even see it until it's too late, and then even the most professional cleaner may not be able to save your furniture. These contaminants may go deep into the fibers of the fabric, causing it to deteriorate faster, shortening the furniture's life span by several years. Think how much a new set of furniture would cost. Isn't it better to have it cleaned for a tiny fraction of that amount?
The upholstery cleaning will help you refresh the furniture. Making it look renewed and smell great again is not a simple task, but it's one we're up for. We know how to approach every couch, sofa, chair and ottoman. Even that mattress you have in the bedroom can be rejuvenated to a clean and odorless state. In general, if it's made of fabric or leather, and considered furniture, we'll clean it.
Upholstery Cleaning - Tulip Carpet Cleaning League City TX
Fabric Sofas
Leather Sofas
Recliners
Ottomans
Loveseats
Sleeper Sofas
Mattresses
Benches
Office Chairs
Sectionals
Couches
Chaises
Accent Chairs
Pillows & Cushions
Bar Stools
Area Rugs, Oriental Rugs, or Traditional Rug? We Clean It!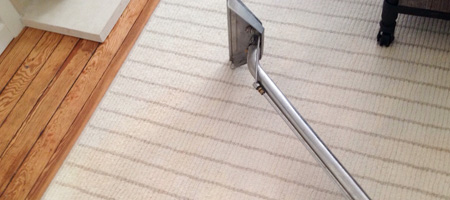 Rugs are always imagined as old, passed in the family, a very traditional way to maintain a family heritage. Today, rugs are not always moved from generation to generation as they are a lot cheaper, and their materials don't last as long as they did. However, even the cheaper of the rugs can last much longer with professional cleaning. Not to mention how long the more expensive and valuable rugs as well, that will benefit greatly from the cleaning.
Rug cleaning can be done onsite or we can pick up the rug, & drop it off once it is all clean and dry. The rug cleaning will include vacuuming the rug, giving it a good scrub and agitation to work all the deep fibers, breaking down dirt and soil, and getting the rug ready for a deep hot water cleaning. After the cleaning, it will be deodorized and a protector will be applied (if requested). You will receive a rug you may not recognize - the colors will be revived, the fibers will be softened, and the whole rug will look a lot better.
OTHER SERVICES WE OFFER:
Tile & Grout Cleaning
Ceramic tiles are a great invention. They're easy to clean, they look great (most of the time), and they're unbreakable (almost). However, over time the tiles do get covered in dust, grime and other substances, which stick to it. You may not notice it if you're cleaning regularly, but if you ever use a stronger cleaning solution or a professional tile cleaning, you'll be able to understand how dirty the tiles were. Professional tile cleaning is recommended every year, to keep your tiles' protective layer intact. In addition, if needed we will re-grout the tiles and make sure it's all nice and clean.
Hardwood Floor Refinishing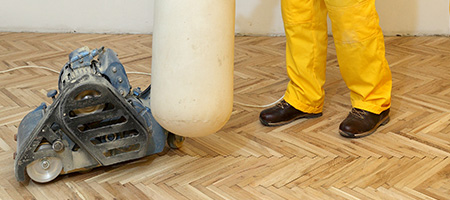 Hardwood floors are a great design feature to the house. The wood floors look great, they add character to the house, and they add a little change from the usual carpets in the house. Nevertheless, wooden floors require maintenance to last for long years. The maintenance is not only to clean them regularly, but also to do a refinishing of the hardwood floors every once in a while.
The refinishing would get the glow back into the floor, making it look like it is rather new, even though it hasn't been there for years. It won't look as tired and dull, but lively and wooden patterns will jump right at you. You'll be surprised how good your wooden floors will look after the cleaning. In addition, if you had a rug on them for some reason, the refinishing is a good time to have that cleaned as well.
Air Duct Cleaning - You Don't Know What's in There!
Have you ever looked inside your air ducts? We assume you haven't. Most people don't. That's because in most cases they don't have a reason to. Well, until they learn that the air ducts are a great hosting site for pollen, bacteria, dust mites and other contaminants and pollutants you really don't want circulating in your home.
You may think you can clean the air ducts yourself, but believe us - you shouldn't. A wrong cleaning technique will make the pollutants circulate even more in your home, because all you will do is detach it from the sides of the air ducts, and free it to run in your duct system. Our air duct cleaning experts will make sure all the contaminants in your system will be sucked out, the duct cleaned, and that your indoor air quality will improve immediately. We'll even let you have a look in the ducts before and after, so you know how much work we actually did, and what a great price you got for it!
Water Damage Restoration - Your Emergency, Our Priority!
Water damage has many faces - it can be a leak in the kitchen, a flood in the basement, a roof that gave in during the winter or a serious rain leaving your home full with water. Whatever caused this misfortune, you need it handled, and you need it handled quickly and professionally. You need to get a team of experienced technicians, who know how to get you on your feet in no time.
To get the restoration done right, the water damage restoration team needs to be equipped with
Flood Extractors to remove all the excess water from the flooded area
Turbo Dryers to dry the area and vaporize the moistness.
Air movers to get the humidity out of the affected area
Dehumidifiers which will aid the water removal
Drying system - if possible to apply, this elaborate system can dry your home in no time.
Hygrometer - a meter to test humidity, temperature and dew in a given space.
Mold testing - if needed and there is a chance of mold growth, this is a very important part to make sure you don't suffer from future growth of black mold, which is dangerous to you and your family.
Don't forget - if you're suffering from water damage take care of it ASAP! The sooner you restore your home, the less damage you will suffer. Need help now? Call us 24/7 at 713-893-4348.
What are Additional Charges to the Cleaning Service?
In some cases, there are additional charges involved in the cleaning service. This has many factors and reasons, but they vary widely between needed services to extra ("luxury") treatments.
Examples of needed services would be:
Furniture that wasn't moved in advance and requires moving - we do not move heavy furniture as part of our basic service. However, if we are required to, we will charge a small fee to cover the work hours needed to move the furniture away from the cleaned area and then back into place.
Advanced stain treatment - if you have extra stubborn stains, or stains that would require extra attention, or a heavily stained carpet - our technician would need to put extra work into removing it. The charge for the stain removal would be separate from the carpet cleaning fee. In addition, please note stains are not guaranteed to come out. That's just how stains are.
Deep carpet cleaning or Shampoo cleaning - in some cases, a deeper and more thorough cleaning would be needed. If your carpets or upholstery haven't been cleaned for a long time or for some reason are super dirty, it will require deep cleaning or shampoo cleaning. We do not recommend regular cleaning in these cases, since the results will be subpar and you will not be satisfied with the cleaning results.
Examples of extra treatments and luxury services:
Deodorizing - If you have a pet, or your carpets suffered some sort of trauma causing it to smell bad - deodorizing would be required. This is not a must, but our technician will offer it in some cases if needed.
Protector - Though most fabrics and carpets today are already protected, every once in a while it's good to renew the protector on the carpets or upholstery. The protector will help repel fluid and dirt from sticking to the fiber, causing damage and hiding under the surface. If the furniture or carpet was not originally protected, it is even more recommended to apply protector to it.
Stretching, replacing or padding the carpet - in some cases, the carpet will be in bad condition after years of use (or after a very bad cleaning experience). This would require some detailed attention to it, which you should be ready for since it's a bit more expensive than a simple carpet cleaning.
Why Do We Offer Free Onsite Estimate?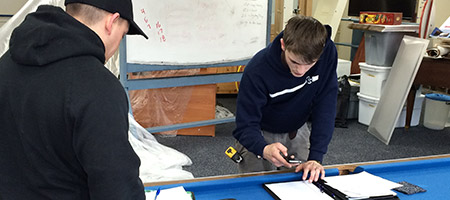 Because we know that people should trust us, and the first step is providing them with a clear price, no games and no foul play. We take it upon ourselves to take the time, drive to your home or office, and provide you with a cleaning price that is in accordance with the precise condition of your carpets, upholstery, rugs or any other item you'd like cleaned.
Some carpet cleaners use Bait & Switch, which is a technique to offer one, very attractive, price on the phone and then when they arrive they claim the price was for a smaller size of rooms, or for cleaner carpets, or for any other excuse they can use. Instead of the price you were promised, you'll be asked to pay a lot more, 4-5 times more. The cleaners that use bait & switch rely on the fact that when they're there, you wouldn't kick them out and pay the price they're asking for because you freed your time, and need the cleaning. Our advice? Kick them out. Give us a call, and we'll do our best to get you serviced the same day. And the bonus? We don't bait & switch. We provide a price and stand by it.
Tulip Carpet Cleaning League City - Locations
We cover a wide area of service in the Houston - The Woodlands - Sugar Land metropolitan area. Our location is in League City in the south of the metro area, but we also serve the surrounding cities.
We service our neighbors from the south - Texas City, La Marque and Santa Fe TX.
We provide service in the eastern parts of the metropolitan area - Baytown, Channelview, La Porte, and Pasadena.
The southern part of the Houston TX metro is also in our coverage area - Downtown Houston, Pearland, Sugar Land, Missouri City and all the way to Mission Bend.
In the north we're able to reach The Woodlands, Conroe, Spring, Humble and Atascocita. However, for service in these areas you should call a few days ahead so we can coordinate your appointment with other customers from your area.
Does Tulip Carpet Cleaning League City Offer Discounts or Specials in League City?
Yes. And no. Our specials and discounts are time limited, and we change them constantly to offer our clients what they really need. For example, during the spring we would offer discounts on air duct cleaning so we can help you deal with all the allergies spreading around during this time of year.
We have offered many great deals before, and you are more than welcome to check out our Free Estimate Page for current coupons and cleaning discounts, or call us at 713-893-4348 and we'll find the right deal for you!
Do You Offer a Guarantee on Your Cleaning Services?
Yes we do. We offer our customer a 100% satisfaction guarantee, meaning we will do whatever we can to provide our customers with the best service we can, and provide the best results possible. We know how to clean very well, and we also know how to be the best service providers you'll meet.
Tulip Carpet Cleaning League City is devoted to its customers. If you're not satisfied with the results or the service you were given, please don't hesitate to call us and let us know what happened. We'll do everything in our control to rectify the situation, and resolve the issue. We're dedicated to our customers for more than a decade, and we'd be happy to have you as a satisfied customer as well.
Do you clean offices?
Yes we do. We clean offices, including their carpets, hallways, office chairs and any other item that needs cleaning. Moreover, we even clean cubicles if they're covered with fabric or carpet. In addition, we offer weekly maintenance schedules to keep the high traffic areas of the office clean and looking fresh.
Do you clean restaurants?
Yes we clean restaurants. Most restaurants require some of our services, and some restaurants require all of our cleaning services. We offer restaurants carpet cleaning, chair cleaning, sofa and bench cleaning, tile & grout cleaning (do you know how dirty the time in the kitchen is?!), and even awning cleaning. We also provide a weekly or bi-weekly schedule at a special price for maintenance and fresh looks at all times.
Do you provide cleaning services out of office hours?
Our operating hours are 8:00 a.m. to 8 p.m., Monday to Sunday. If these hours are not suitable for you or your business, please give us a call and we'll do our best to provide you with out of office hours service.
What Are You Waiting For?
Call us today at 713-893-4348 and get a free estimate from Tulip Carpet Cleaning League City Texas.